Did you hear about all those crazies that stood in line to see Harry Potter and the Deathly Hallows Part 2 at midnight last week? Well, I was one of them! Having never been to a midnight premier of a movie before, I figured that this would be a pretty fun one to experience. Boy did I figure right.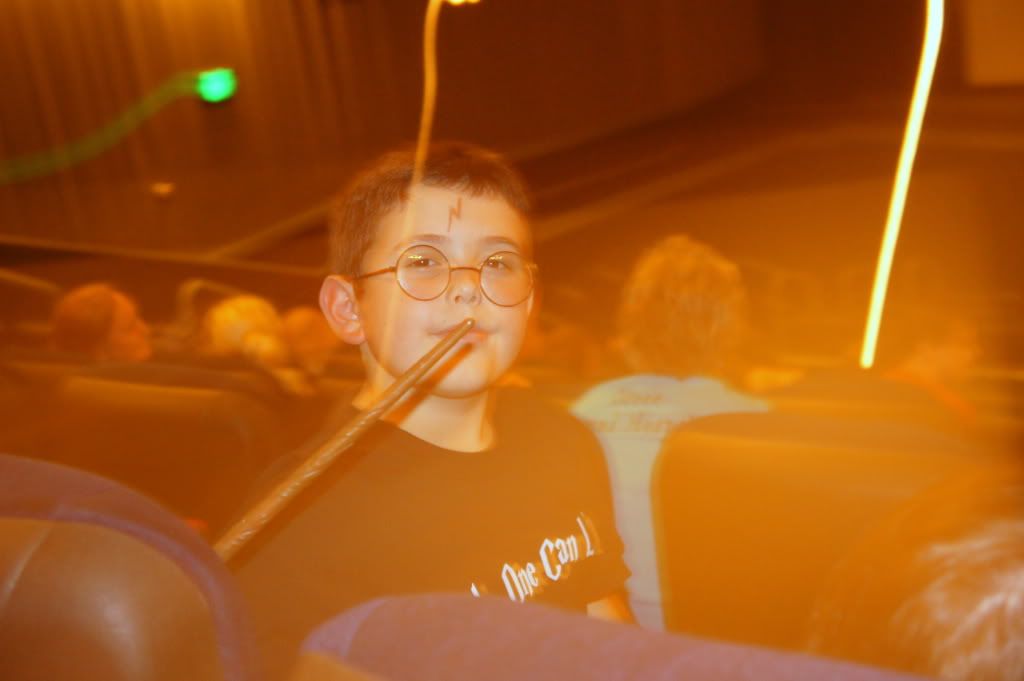 It was clear there was magic in the air.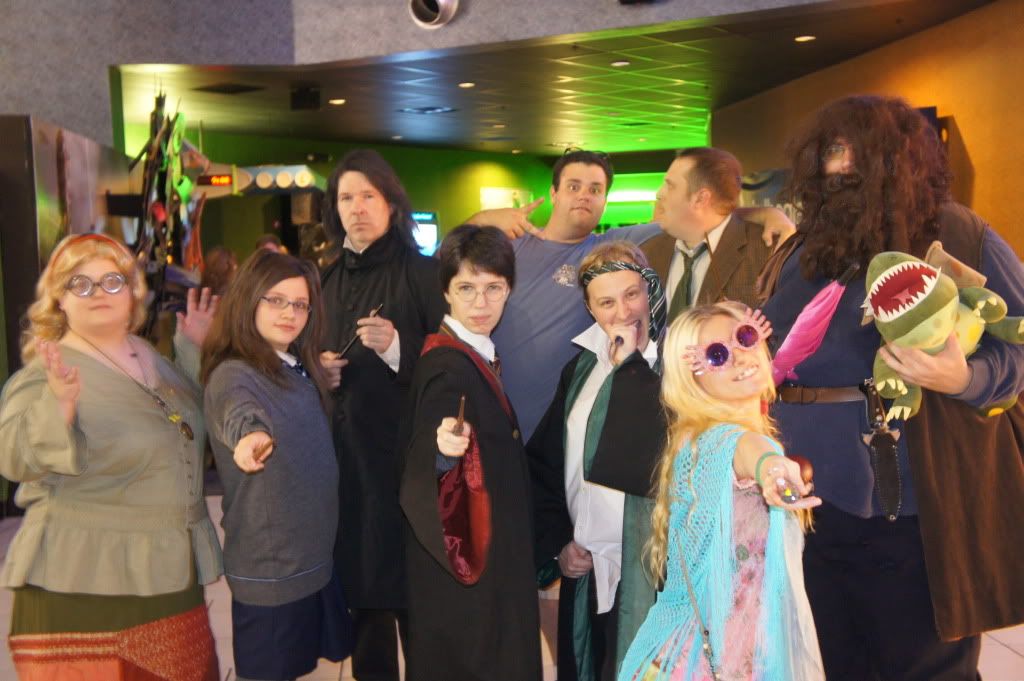 We met lots and lots of super fans who were dressed to the nines and more than happy to pose for pictures.
The megaplex we chose was showing the film in all 18 of their theaters including the IMAX. According to the manager, at about 11:30 PM there were only 300 tickets left in the entire place. Considering we were in one of the more moderately sized theaters and it sat roughly 300 people I found those ticket sales to be massively impressive. Having heard the film brought in nearly 169 million smackaroos over the weekend, I'm guessing our theater wasn't unique.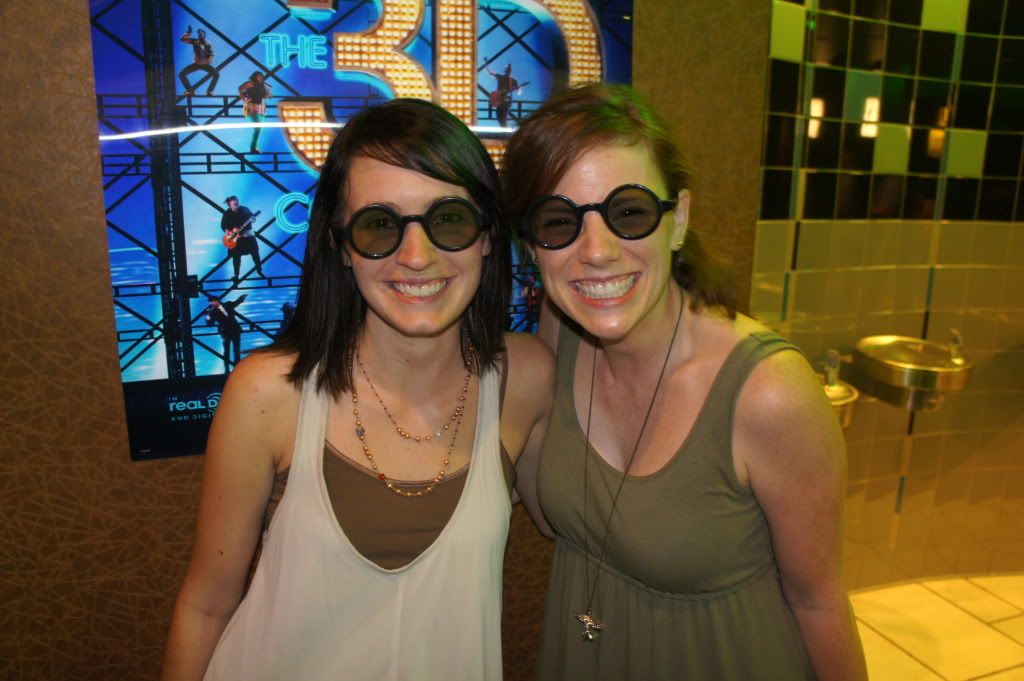 Sooooo, I didn't dress up. But, I was able to wrangle a pair of these Potter shaped 3D glasses. They helped me to feel a bit more festive.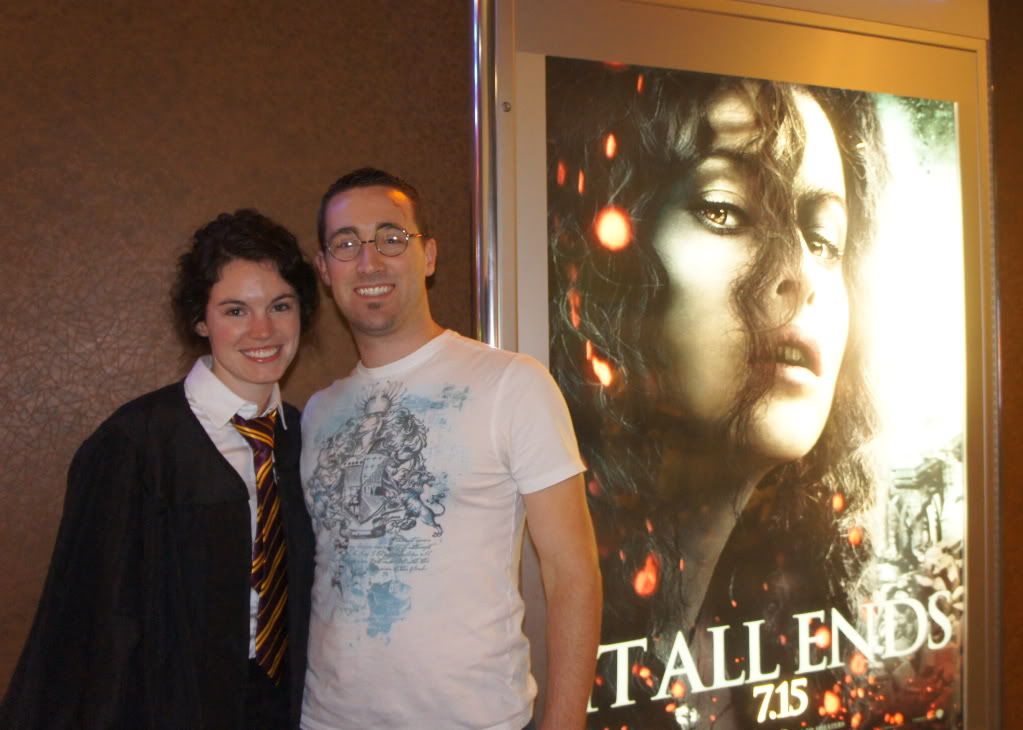 I owe major thanks to Miss Tiffany (above with her hubby) for organizing the night. It was fun to learn that she and her hubby saw the first Potter movie on their first date almost 10 years ago! Having seen each of the subsequent films as a couple, this series holds a special place in their hearts.
The movie was quite the experience! Fans cheering throughout the film made it everything I was hoping for in a midnight premier. There's something unique about seeing a movie surrounded by diehard fans. The energy is high and the expectations are even higher. So did the film measure up? First a disclaimer: If you are not a Harry Potter fan and have not seen all of the earlier films or read Rowling's books, this film may not be for you. It is most definitely not a standalone film. Unquestionably, Deathly Hallows is the conclusion of an eight part film series. The audience is expected to be familiar with Harry Potter's world and his back story. The film immediately barrels forward without looking back to answer any questions or clarify any details. However, even if you are only a marginal fan (like I am) the film shouldn't disappoint. I found it to be totally satisfying. Director David Yates has created an incredibly dark film filled with amazing special effects and stunningly beautiful visuals. J.K. Rowling's brilliant book was beautifully and carefully adapted by screenwriter Steve Kloves to maintain its magic. Harry Potter's saga is a classic example of storytelling that, quite simply, works. As a heroic epic it packs in all the elements that resonate with the human heart. Then, Daniel Radcliffe and his phenomenal co-stars (Ralph Fiennes, Alan Rickman, Helena Bonham Carter, Maggie Smith and Michael Gambon to name just a few) magically elevate the tale making it a true pleasure to experience. All that to say, Harry Potter and the Deathly Hallows Part 2 was a wonderful conclusion to an entertaining series.
Did you see Deathly Hallows this weekend?