My friends the time has come for another fashion week. NO, I'm not talking about Mercedes-Benz Fashion week in NYC - though, I am thinking about it. And reading about it while drooling over the pictures. And wondering if I'll ever get to sit front row at a show. *sigh* Where was I? Oh ya, it's time for the REAL fashion week. It's time for the bloggy kind of fashion week. The kind where the models (aka bloggers) actually wear clothes that are appropriate for the season that is happening. It's time for the the moms are everyone! kind of fashion week.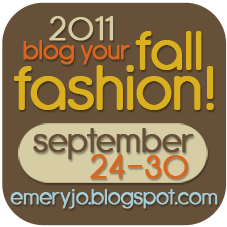 It's just around the corner so there's still time to get your buns in gear! For my money it's the best blog party/link up out there. In fact, I think it's so fantastic that this is my fourth time participating. Truth be told, this is the blog event that is responsible for introducing me to a few of my most favorite friends in the blog world. I'm TOTALLY serious. Would I make something like that up? NO. I'm telling you, Emery throws quite the party. I promise that you do not want to miss out on the fun, the fashion and all the bloggy love that happens during this event. We're talking about seven days of stylish posts all around the blogosphere. It's magical. Are you sufficiently amped up and ready to participate? Good, that's what I like to hear.
This one promises extra fun for me since I'm not shopping right now. I'm excited to check out all the fashionable bloggers out there and swipe a little bit of inspiration to incorporate into my everyday life. I'm looking forward to meeting some new friends and falling back in love with my closet all over again!
Check out Emery's Blog for all the details.
In case you're curious or are new around here, these are my previous fashion week adventures:
spring 2010 ** summer 2010 ** fall 2010